Products
Hokkaido Hotcake 3 Meal Set (Chilled)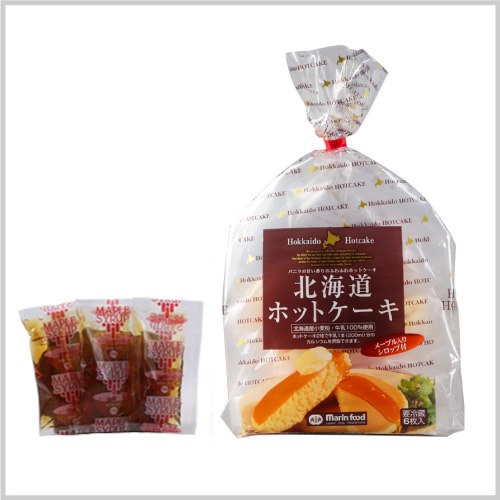 As our concern for food grows, such as GMOs, mad cow disease and aphthous fever, we created this Hotcake Set in pursuit of making a safe and healthy food product.
It is made of 100% flour from Hokkaido and milk from Hokkaido.
Domestic flour is classified as all-purpose flour and has more protein and gluten than soft flour and it tends to get hardened. However, using our original mixing process, we created a fine and fluffy texture.
Hokkaido Hotcake include the same amount of calcium as 200ml of milk.
For your convenience, we included a syrup including maple syrup.
Product description
Ingredients
[Hotcake] Wheat flour, Egg, Sugar, Milk, Dairy product, Vegetable oils and fats, Glucose-fructose syrup, Salt, Baking powder, Processed starch, Eggshell calcium, Flavor, Emulsifier, Stabilizer (Xanthan gum)
[Syrup with Maple] Glucose-fructose syrup, Sugar, Maple syrup, Honey, Flavor, Food coloring (Caramel)
Quantity
Hotcake 300g (2 hotcakes x 3)
Syrup with Maple 60g (20g x 3)
Preservation
Keep refrigerated (0~10℃)
Best-before date
15 days after defrost
Nutrition Facts
Serving Size 2 hotcakes (100g)
Syrup with Maple (20g)
Allergen
Hotcake : Wheat, Egg, Milk, Soybean,
Syrup with Maple : Non
More information
Product code : 054543
JAN-code :
4964312545023
Package :
{Hotcake (100g x 3)+Syrup with Maple (20g x 3)} x 6packs x 3boxes
Products related to Pancake
Categories
Margarine

Butter

Cheese

Pancake