Products
Vegan Hotcake (4 slices)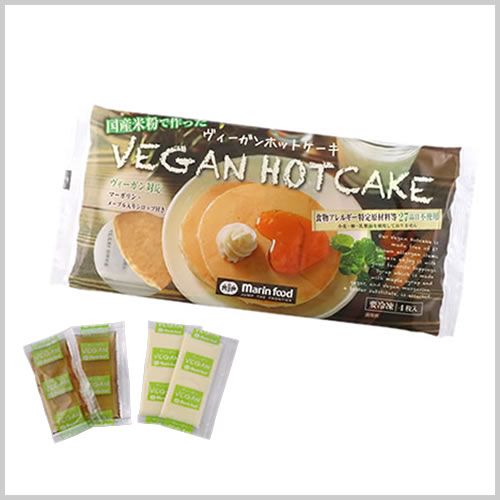 It is a set of 4 slices of vegan hotcake, 2 syrups with maple and 2 margarine packages that do not use 28 allergenic ingredients nor animal origin ingredients.
The hotcake main ingredient is rice powder.
The baking powder is aluminum free.
The syrup color originates from soft brown sugar, and we do not use caramel color.
Product description
| | |
| --- | --- |
| Ingredients | [Hotcake] rice powder, soft brown sugar, vagetable oil, fructose, chickpea flour, carrot juice (concentrated carrot and lemon juice), salt, processed starch, baking powder, cellulose, stabilizer (guar gum), flavor, emulsifier [Syrup with Maple] soft brown sugar, starch syrup, maple syrup, spices [Margarine] vegetable oil, refined processed oil, salt, spices, emulsifier, coloring (carotin) |
| Quantity | Hotcake 200g (4 hotcakes), Syrup with Maple 40g (20g x 2 items), Margarine 20g (10g x 2 items) |
| Preservation | Keep frozen (Max.-18℃) |
| Best-before date | 1 year after the production date |
Nutrition Facts
Serving Size 2 hotcakes (100g)
1 piece of margarine (8g)
Syrup with Maple (20g)
Allergen
None (The same facility produces products that use wheat, egg, milk and soybean).
More information
Product code : 056601
JAN-code :
4964312566011
Package :
Hotcake (50g x 4) + Vegan Margarine (10g x 2) + Vegan Syrup with Maple (20g x 2) x 9 sets x 4 (NET 9.36kg)
Products related to vegan
Products related to Pancake
Categories
Margarine

Butter

Cheese

Pancake